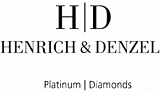 Disclaimer
Liability for the contents of the web site
Henrich & Denzel provides no guarantee of the current nature, correctness, completeness or quality of the information provided. Compensation claims for material or immaterial damages that result from the use or omission of use of the information provided and/or from the use of erroneous and incomplete information are excluded in as far as no intentional or grossly negligent fault of Henrich & Denzel can be proven. All offers are without obligation and non-binding.
Liability for referrals and links
Although we check contents carefully, we reject any responsibility for the contents of external web sites.
Exclusively responsible for the contents of linked web sites are the operators of those web sites. The operator of the linked web site is solely liable for illegal or incomplete contents and in particular for damages incurred due to the use or omission of use of such information provided.
Copyright
The text and image information on this web site may only be copied and used for your own purposes after express written permission from Henrich & Denzel. The products and brands shown are protected by copyright.
Data protection
In as far as the web site includes the option of entering personal or business data, this data is provided by the user on an expressly voluntary basis.
Google Analytics
This website uses Google Analytics, a web analytics service provided by Google, Inc. ("Google"). Google Analytics uses "cookies", which are text files placed on your computer, to help the website analyze how users use the site. The information generated by the cookie about your use of the website (including your IP address) will be transmitted to and stored by Google on servers in the United States . Google will use this information for the purpose of evaluating your use of the website, compiling reports on website activity for website operators and providing other services relating to website activity and internet usage. Google may also transfer this information to third parties where required to do so by law, or where such third parties process the information on Google's behalf. Google will not associate your IP address with any other data held by Google. You may refuse the use of cookies by selecting the appropriate settings on your browser, however please note that if you do this you may not be able to use the full functionality of this website. By using this website, you consent to the processing of data about you by Google in the manner and for the purposes set out above.
Use of Facebook-Plugins
We integrated plugins of the social network facebook.com (hereinafter called Facebook) on our website. Facebook is part of Facebook, Inc., 1601 S. California Ave, Palo Alto, CA 94304, USA. Whenever directing your browser to our homepage, where the plugin is installed, the plugin causes your browser to download the visual display of the Facebook Plugin. In doing so the Facebook server is informed which certain website of our homepage you are visiting.

If you are a member of Facebook and logged on to Facebook while visiting our website, the plugin sends information and Facebook recognizes which webpage of our site you are currently visiting and assigns this to your Facebook account. When using the plugin factions, e.g. clicking the "like" button or posting a comment, this action is sent and saved on your Facebook. Moreover the information about visiting our website is sent to Facebook, regardless of whether you used one of the plugins or not.

To avoid Facebook from transferring and saving your data, you have to log off from Facebook before visiting our website. Information concerning the purpose and extent of data collection, the further processing and use of the data by Facebook and your related rights and settings for protecting your privacy can be obtained from Facebook´s data protection policy: http://www.facebook.com/policy.php



Henrich & Denzel GmbH
Karl - Bücheler - Str. 2
78315 RADOLFZELL
GERMANY
Phone: +49 7732 94 92 0
Fax: +49 7732 94 92 10
Email: info@henrich-denzel.de
Web: www.henrich-denzel.de
Managing Director: Christian Brüggerhoff, Anja Franke, Mario Hoeltke
Commercial register number: HRB 550223
Court of registration: Freiburg
VAT identification number: DE 142 779 279