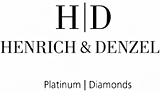 Wedding, partner and friendship ring, engagement ring and jewelry ring concept
With www.design-your-ring.com Henrich & Denzel launched one of the leading online configuration systems not only for designing individual engagement and wedding rings but also partner and friendship rings as well as jewelry or dress rings. One aim of the brand is to provide a high-end tool for quality-oriented customers to visualize their own unique dream rings.

One of the many special features is the possibility to configure two rings, a ladies and men's wedding, partner or friendship ring separately, both of which are shown as a pair. In addition, a solitaire engagement ring, eternity or a diamond set side ring can be supplemented.

In the first step, you may select your desired profile. We offer nine wedding ring profiles to choose from. From the classic oval to the brand's typical monitor style, you can choose your favorite shape for your perfect dream ring.

The next step is to define the desired width dimension. In addition to the choice of width that suits perfectly to the proportion of your fingers, you can determine the ring height or thickness of your wedding ring. With this option you may not only change the proportions of your ring it also effects the price.

Under the theme choice of materials you determine as well the design of the wedding or partner ring, engagement ring and dress ring. Note that you can also create single-color designs with various surface finishes. Of course, playing with the materials and colors of gold and platinum has its charm. Each precious metal can be combined with various surfaces from polished to different matt finishes.

The coronation of the wedding/ partner/ friendship rings and engagement rings is the diamond setting. Glamorous glitter underlines the personality of the wearer. It's worth experimenting with the possibilities and to change the number and size of the diamonds. Your wedding ring may be shown with only a single diamond but also as a fully set diamond band.

Let your creativity flow and design your very own unique dream ring! When finished, your individual wedding and engagement ring may be saved in the desired combination, sent as an email or printed as a PDF. With this information in hand, you may visit an authorized jeweler partner – the request button easily enables you to select and make an appointment with one of our partners. He can then login onto the site and recall your dream rings in his shop. Additionally he may breathe life into the virtual rings by presenting you the different materials and surfaces in the precious metal version using our special wedding ring and engagement ring Kaleidoscope. Then you may experience the different shapes and surface finishes, the natural weight of the gold and platinum as well as the different setting types in reality.

We hope you will enjoy creating and designing your personal dream rings. To find the locations of our partner jewelers please see the store locator. Henrich & Denzel is represented in many countries and works with leading jeweler partners. In the UK and Ireland we are presented in London, Manchester, Birmingham, Sheffield, Chesterfield, Glasgow, Dublin and many others.
In the US you can find us in New York, San Francisco, Newport Beach and many others.