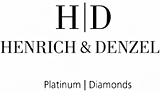 Concentration on the essentials - wedding rings, engagement rings and contemporary jewellery
Henrich & Denzel is still today what it always has been: a jewellery manufacturer with a passion for perfection. Over a period of 25 years, we have continually developed and remained true to ourselves. Since the very beginning we have not tried to fulfill standards, rather set them – from self-conception and deep belief.
1. Clear shape
A modern design beyond fleeting and superficial fashion trends is a mark of every Henrich & Denzel jewellery piece. The company tradition of lineal clear designs and superior quality-consciousness in combination with proportion, detail and material are important guidelines, which are constantly being further developed according to the knowledge of the latest design.

Therefore, jewellery by Henrich & Denzel is captivating, for example, not only through its square-edged cool beauty but also through its soft flowing sensuality. With these design directions we maintain for our wedding ring, engagement ring and jewelry collections an international appeal.
2. Precise processing
Awareness of tradition together with the trendsetting strive for perfection can be found down through all levels of production. An interaction of traditional goldsmith craftsmanship and modern technology, which have been optimally harmonized to one other, combines the advantages of man and machine and enables the creation of collections of complete and consistent quality.

Henrich & Denzel jewellery pieces draw upon an equality of function and aesthetic. The search for the most intelligent solution is constantly the highest maxim, in order to precisely realise sophisticated, detailed designs and make everlasting pleasure from the jewellery piece possible – also through the extraordinary wearing comfort.
3. Individuality & Service
Those who wear jewellery pieces by Henrich & Denzel do not only want to give their individual taste a touch of expression, rather also show that values such as quality and durability essentially define one's own personality. Thus, a jewellery piece by Henrich & Denzel often becomes a constant companion.

So that the pleasure out of jewellery is everlasting, Henrich & Denzel offers comprehensive service. And our carefully selected partner jewellers provide qualified and personal advice.
4. Pure Material
The uncompromising business philosophy is reflected in the selected material quality and exclusive choice of materials used. Both are necessary for a long-term value and an everlasting beauty of the jewellery piece. Henrich & Denzel jewellery is defined by three elements: platinum and gold as well as diamonds and colored precious gems. The individual combination of the different materials in a single jewellery piece provides an incomparable aesthetic and expressiveness.

All production and processing steps are subject to strict environmental regulations. All material scrap is collected and recycled. As well as that, only electricity from sustainable sources is used by Henrich & Denzel. We see it as our obligation especially with this product portfolio of high quality engagement rings, wedding bands and jewelry rings to maintain a sustainable manufacturing concept.