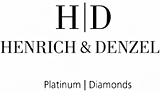 Values Made in Germany
The enthusiasm for platinum laid the groundwork for the founding of Henrich & Denzel and since then has been the impetus for the constantly increasing success of the company. In an uncompromising manner, the jewellery manufacturer has made a commitment to the purity of high-quality materials and modern design. These high quality requirements are also a defining credo in all our production processes. The careful choice of suppliers and partners guarantees the comprehensive implementation of these high standards.

What began as a small studio 25 years ago has since developed into an international jewellery company with thrilled clients from New York to Tokyo. Hence – or better said, for exactly that reason – the company is still based in Radolfzell, a part of the cultural landscape of Lake Constance. This is also an expression of the living awareness for value of Henrich & Denzel.